A ringtone speaks volumes about the owner of a cellphone and anybody who has the time must take the effort to personalize it. Why not? After all, we do personalize the way we look, walk, sound or do anything for that matter. If you are using an android phone, there are some cool apps that you can use to create a ringtone that suits your personality or of the ones who call you frequently.
Zedge
If you are looking for HD wallpapers – still and live, ringtones, alerts and sounds, you cannot go wrong with Zedge. Its credibility lies in the fact that CNET and Time Magazine have recommended it multiple times. You can also look up for popular games on Google Play through this app. All these services are free of cost.
Funny SMS Ringtones
Who wouldn't want their ringtone to bring a smile to their face every time it rings? This app has more than 50 cellphone ringtones to choose from, all from the funny genre. It has a favorites feature to mark the tones you like for future. Everyone can find some tone to select for their cellphone through this app. It is a free application by Sancron Funny Ringtones and shows very few ads to its users to earn its revenue.
Scary Ringtones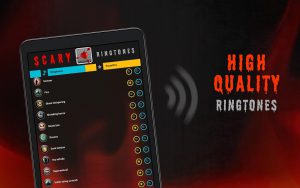 Well, for those who like to get naughty with their ringtones, here is an app to scare people away. The sound quality is too good that makes the sounds appear real. Imagine people hearing a door creaking every time you receive a text or an email! T can get scarier than that with sounds, voices and what not. The original ringtones are great attention grabbers but please do not use at inappropriate places. This app by RayJayFro is one of the top 10 apps at Google Play Store.
Funny Ringtones
This is another awesome android base application by Sancron Funny Ringtones which has a huge variety of ringtone for your cellphone. The interface is very simple and hence anyone with little knowledge of smart cellphones can use it very conveniently. Its unique features include a social rating feature and the ringtones include the funniest and craziest sounds.
Mobile9
If you are one of those people who get bored with their cellphone ringtones every other day, this app is for you. Mobile9 by CubeyApps has it all – new themes, wallpapers and ringtones that are updated on a daily basis. The interface is attractive, intuitive and saves time when any user wants to play with it. The database is huge and you can find almost everything under the sun in this app.
Romantic Love Ringtone
There is a time of life, when you want to see romance everywhere so why should your phone be isolated? Romantic Love Ringtone app by DreamRing is ideal for those under Cupid's influence. A special romantic ringtone for your special someone is sure to earn you points in a relationship and set the right mood too!
There are many more apps for every mood and every need of yours. No need to stick to boring ringtones when you can get personalized ringtones that suit your persona and add some fun to life.